When I use a search engine for trending news or topics, often I see lots of people who search for crosh commands funny or crosh commands for fun and some related keywords.
For Chromebooks, crosh codes are very important. With the help of these codes, you can easily do heavy tasks very easily.
In a Chromebook OS, you have to enable Linux and after that, you can experience the power of your laptop with the help of Linux Beta.
There are thousands of commands that you can use for your fun, time pass, or learn new things.
When I have to do some quick tasks in no time, I generally open the crosh shell terminal using Ctrl + Alt + T and then use some shortcut crosh commands codes to open my tasks.
And within a second, my tasks pages open. This is one of its benefits you can save time.
Today, I will share commands that will be beneficial for you and you can try these codes in your free time for having fun.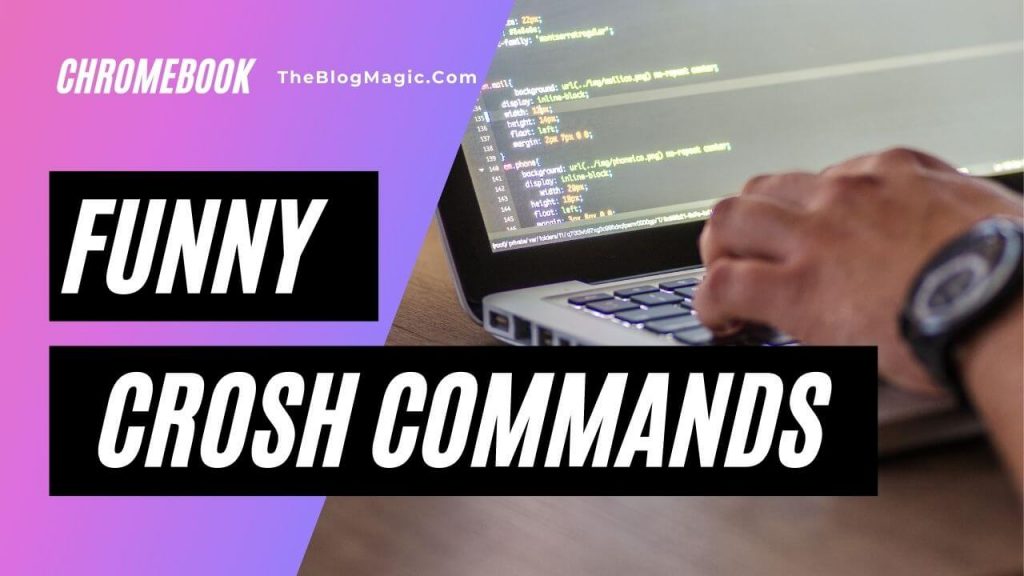 What Are Funny Crosh Commands For Chromebook OS 2022?
Before getting started, there are some codes that are known as evil crosh commands. If you don't know what are these codes? You can follow the given link, what are evil crosh commands 2022?
Developers called it, evils or dangerous crosh shell codes because, these codes are very dangerous for your laptop or chrome OS. It is enough capable to vanish your OS.
And you can't retrieve it back like before. That's why I think, if you don't know about these codes, you should know.
So let's start, Following are the funny and hidden crosh commands that you can use on your chrome terminal.
Also Read: 57 Crosh Terminal Commands That All Chromebook User Should Know.
1. Test Laptop Battery.
With the help of this codes, you can check the status of your laptop battery and its discharge rate. Enter the code like this battery_test [seconds]. Replace seconds with numbers and run the commands. This will show the battery discharge rate per second.
battery_test [< test length>]

Example: battery_test 5
2. Test Chromebook Memory.
There are some plugins are available for it to check your chrome book memory. But you can do this with your crosh shell terminal and this is far better than any premium plugin. With the help of this code, you can see detailed memory information of your device.
memory_test
3. Do A Ping Test.
To ping any website and check the connectivity status you can do a ping test. Simply type ping [website name] such as "ping google.com"
With the help of this ping test, you can diagnose network problems and also check the traffic details and network bandwidth.
ping [domain]

Example: ping google.com
4. Close Shell In A Manner.
If your crosh codes are running in the background and suddenly want to stop the entire process or want to close the entire shell together. Then this is the best manner to do and this will improve your chrome efficiency. So, to do this simply press Ctrl + C together.
Ctrl + C
5. Open Task Manager.
Like Windows and Mac OS, Chrome OS also has a task manager where you can see all your running tasks. No matter it is running in the background or live, and this will give you detailed information about your running tasks.
top
6. Capture Log Data.
If you enable developer mode in your chrome, then you can use this code. This will help you to captures and log data packets. You can save packets data while troubleshooting network connections.
If you don't know, how to enter into developer mode? Follow the given link.
packet_capture
Also Read: How To Install Wine 6.0 On Chromebook OS?
7. Rollback To The Previous Updates.
I think and for me, this is the best crosh code because if your current OS version is ravaging your working experience then you can rollback to the previous version. Generally, this kind of issue is created when you installed the beta testing version.
That time this code will help you a lot. Simply run the code "rollback" and boom, after few minutes your previous OS will be ready to work for you.
rollback
8. See Terminal History.
This command helps you to see all the commands that you had run in your crosh shell terminal.
shell_history
Also Read: 2 Easy Ways To Install iTunes For Chromebook.
9. Uptime Status.
I think you should try this command at once. To check the uptime of your chrome book and how long your system is running. Also, you can check the number of users are logged in, in real-time.
uptime
10. Check Auto Update Over Cellular Network.
If you love updates then this is for you. By default, auto-update for the cellular network is disabled. So, you can enable or disable your Chromebook OS updates over the cellular network by using the following commands codes.
update_over_cellular [enable/disable]
Frequently Asked Questions.
What does Bt_console do in Crosh?
This command opens Bluetooth debugging consoles, that help to fix the Bluetooth-related issue.
Does Crosh do anything?
Yes, with the help of crosh you can do almost all tasks on your Chromebook. Every task has specific commands and you have to know all.
How do I change colors in crosh?
Changing color in crosh is very easy, simply open your crosh shell terminal by pressing Ctrl + Alt + T and then press, Ctrl + Shift + P. This will open a window where you can change the color, backgrounds, and cursor color.
Can crosh unblock sites?
Yes, with the help of crosh you can access the blocked websites. Simply ping that website into the crosh shell terminal, and copy that website's IP address and search it.
How do I find someone's IP using crosh?
Open crosh terminal and ping that website. You will get the IP address of that website.
What are the things to do on crosh?
There are lots of things, you can try on crosh shell. Listen to kinds of music, unblock websites, open games, play videos, run Windows and Mac OS apps, see others saved wi-fi passwords,s and get detailed information about your chrome OS.
Hey! This is Ravi, Technology Youtuber | Blogger by Passion | Entrepreneur by Nature. I love to share information related to Digital Marketing, Blogging, Technology, Gadgets, the Internet, and solving user's quarries.