Want to listen to all your music on Chromebook Or do you want to enjoy the full advantages of iTunes? That's why you are searching iTunes for Chromebook.
Well, you are at the right destination.
As you already know iTunes doesn't support on Chromebook and works well with Microsoft windows or mac os.
But, you don't have to worry about it.
As experts say, where there is a will, there is a way.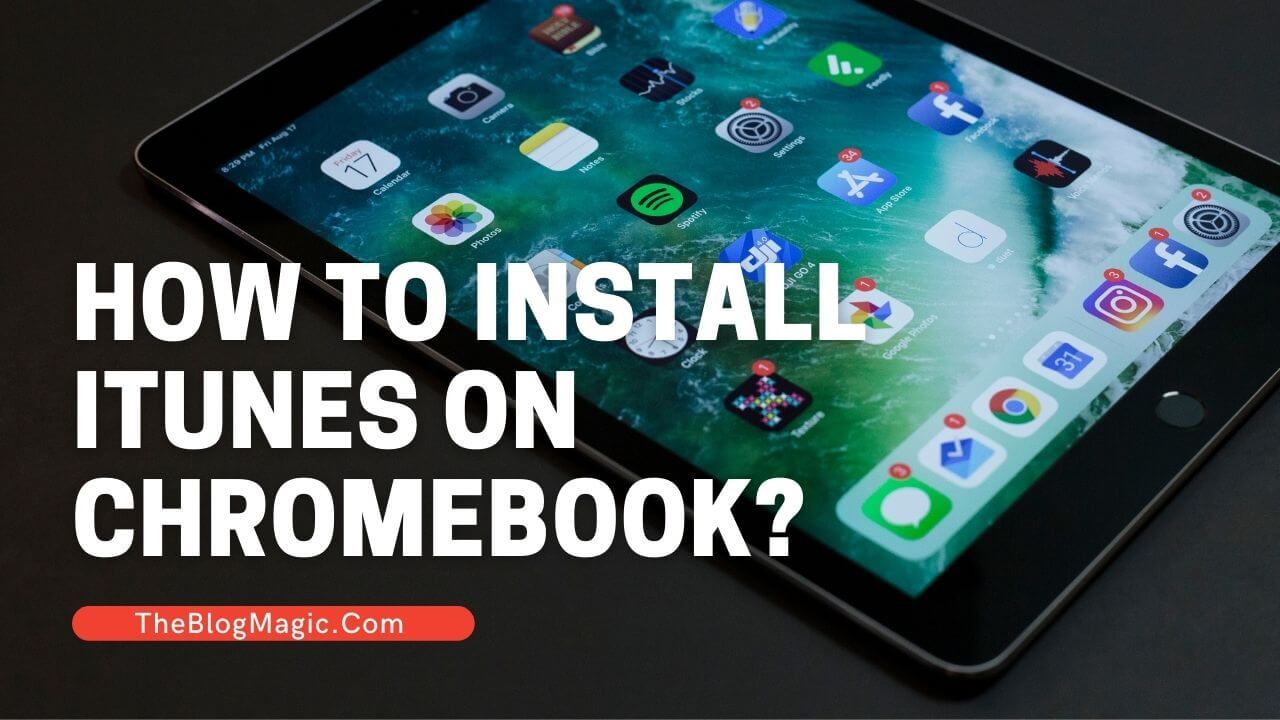 As far as I think, when you are exploring the other pages, might be you found lots of technical steps that you have to take to download iTunes.
But here you don't need to install 32-bit iTunes for Chromebook or have to be technical.
Also Read: 5 Top iTunes Alternative For Chromebook.
Only have to follow some basic steps to use iTunes on chrome OS.
Method 1. How to Get iTunes on Chromebook OS?
iTunes only supports Microsoft Windows and Mac OS but, you want to use it on your device. So for this, you need an iTunes subscription.
After that, you can browse 70 million songs and listen on your device.
Follow the instruction to use iTunes.
Through this method, you can only use iTunes music. To get all iTunes features use app on your device, follow the below additional method through which you can get all benefits of iTunes.
Open Chrome browser.
Search music.apple.com/us.
Click on the upper right three-dot button.
Go to "more tools" and then, create a shortcut.
Name the shortcut iTunes.
That's all, the shortcut was created on the desktop. When you open it. This will open your apple iTunes music and then you get the songs you wish.
Note: Different browser has different method to creating a shortcut. So if you are using some other browser except chrome. You can also create shortcut there, not using the same method, but you have to understand the whole method of creating shortcut.
Also Read: How To Download iTunes On Chromebook Without Linux?
Method 2. How To Install iTunes on Chromebook With Linux Beta?
Note: Before processing you should keep in mind few points.

Apple didn't release any Android version of iTunes, but still, you can access it, using Windows versions.
You need to install Linux Beta, which comes with your Chromebook. This doesn't affect your Chromebook OS functionality.
To install iTunes on Linux, you need to instruct some terminal commands.
Only the 32-bit version of iTunes works well on Chromebook. So if you install other versions, it will not run on your chrome book computer.
Well, you are here, it's means you want something new, something additional. That's good, so if you don't want to use the shortcut method from the browser and want to install iTunes on chrome os just like you install the software.
Yes, you can also do it like this. But before you start you have to download 32-bit iTunes for Chromebook OS because in chrome os device 64-bit iTunes doesn't work well and shows a black screen.
So in order to avoid all these conflicts, you have to download 32-bit iTunes. Clear, now follow the exact method to install the file into your device.
Also Read: 32-bit iTunes For Chromebook Download (Latest Version 4 December, 21).
Step 1. First of all, you have to enable Linux (Beta) from the settings menu and this will install Linux into your device then you have to set up Wine. If you don't know, how to set up wine follow the link: How to install wine on Chromebook OS?
If you don't know what it is you can read it from here. Basically, it is software that helps you to install and run Windows software in Chromebook.
Step 2. Now download the 32-bit version of iTunes for windows os, which works on chrome os with the help of wine software.
Step 3. Now, rename the downloaded file with something else like iTunes.exe and then move it to the Linux section.
Also Read: How To Download iTunes On Chromebook Without Linux?
Step 4. Here you need coding skills. So open the Linux terminal and run the below-given command to update your Linux with the latest build. It will update your Linux with some system packages and their dependencies.


sudo apt-get update && sudo apt-get upgrade -y


if you install the latest version of Linux into your device. Now open the Linux terminal and run the following command to change wine architecture to 32 bit.


WINEARCH=win32 WINEPREFIX=/home/yourusername/.wine32 winecfg


Step 5. Change username to actual username. See Linux terminal, your username will be before the @penguine. A popup window will open click "OK" to proceed further.
Step 6. It's time to install the 32-bit version of iTunes. So run the below command to install the setup. Make sure you changed your username with the actual one.


WINEARCH=win32 WINEPREFIX=/home/yourusername/.wine32/ wine itunes.exe


Step 7. After using the above command, an iTunes installation window will open. So, install iTunes.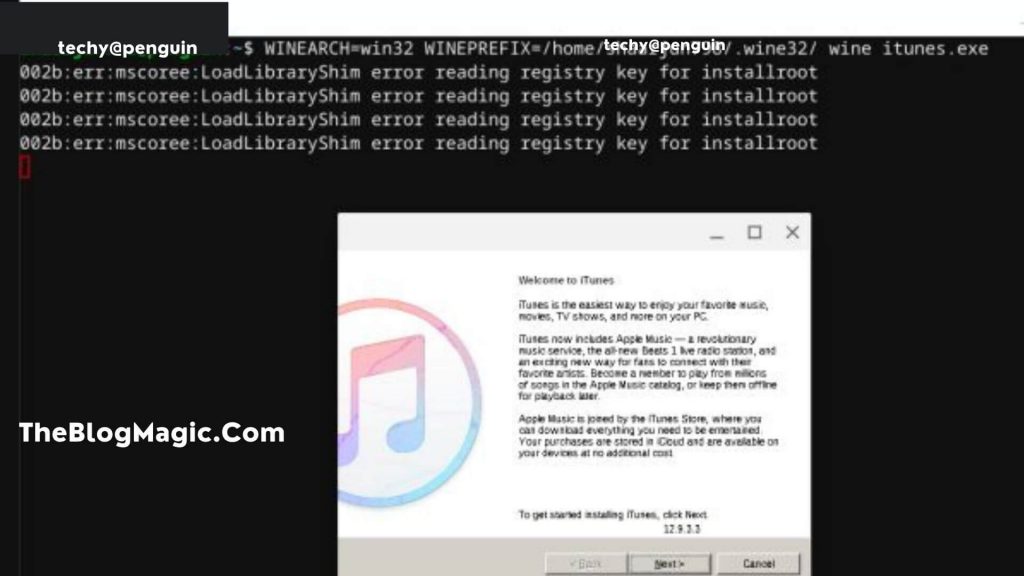 Step 8. That's all done. You successfully install iTunes successfully.
But there is a problem when you click on the iTunes shortcut that has been created in the app drawer.
The iTunes shortcut will not open because of the incorrect path. So follow the below steps to create the correct path to run the shortcut.
How To Create Shortcut For iTunes On Chromebook?
Congratulation, you have successfully installed iTunes on chrome os. But due to an incorrect path application will not open. So now you have to give it the correct path so that you can use it.
Step 1. Go to file manager and open the Linux file directory. Then click on the three-dot button which will be found in the upper right corner and select show hidden files.
Step 2. Navigate the following file path to locate iTunes.
.local > share > application > wine > program files > iTunes.
Step 3. Now, you will see "iTunes. desktop". Click right on it and select open with text.
Step 4. When the editor opens, run the following command before the line starts with "Exec=" to give it a path. Make sure before running the command you replace the username with the actual one.


env WINEPREFIX="/home/your-user-name/.wine32" wine "/home/username/.wine32/drive_c/Program Files/iTunes/iTunes.exe"


Step 5. Now save the text editor using the shortcode Ctrl+S.
Step 6. All done, you can access the iTunes from app drawer and listen to millions of songs.
Method 3. How To Install Itunes On Chromebook Without Linux 2023?
If the above two methods didn't satisfy you or maybe wine for Chromebook didn't work correctly in your Chromebook. In such a case, you should move to some additional method.
And the method is to "Install Virtual Machine Application". This application helps you install and run iTunes with full advantages in chrome os. This kind of application is known as a "Parallel Desktop Application".
This application needs high-end specifications, so if your chrome os has an "Intel-based processor" then it will work smoothly otherwise it seems to lag while running it.
Follow the exact step to install and run the iTunes application on google Chromebook os 2022.
Step 1. First of all download the "Windows ISO file" (for high-end Chromebook devices) or "Lightweight Linux Distro". And clear some space for "Guests OS" to install and run applications smoothly.

Step 2. Open a web browser and download "Debian 10" from the "VirtualBox website".
Step 3. Once it is downloaded, double click on the downloaded file, and select "Install with Linux".
Step 4. Follow the prompts to install the "VirtualBox".
Step 5. Once it is installed, go to the menu and select "Linux Apps Folder", and then open "VirtualBox".
Step 6. Now, select "New" and follow the prompt to "Install the Guest Windows OS in the Chromebook OS".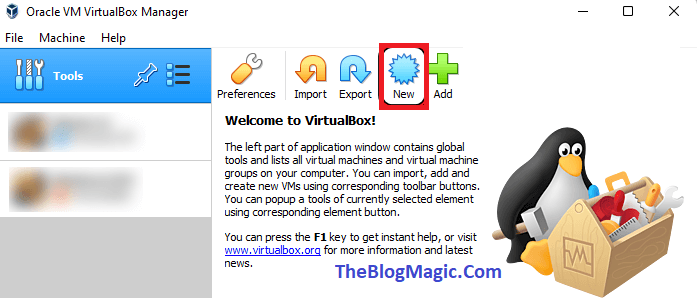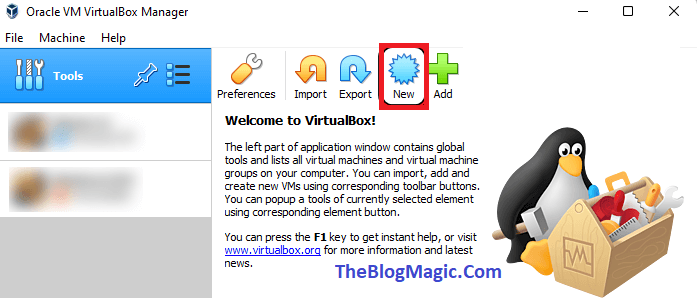 Step 7. When it is installed successfully, launch the "VirtualBox" and "Install Windows iTunes Apps" in the "Guest Windows OS".
Step 8. Once installation is done, launch iTunes on chrome and enjoy.
Note: You have to keep in mind VirtualBox needs high-end Chromebook specification, processor, and enough space to run all the Windows software smoothly otherwise, it will lag and sometimes freeze too.
Conclusion.
This is the simple and most effective way to use iTunes on a Chromebook device. Only you have to take a subscription to it.
Or if you want some other alternative methods for iTunes for Chromebook, don't forget me in the comment section.
If you really enjoy it. Do share it with your loved ones.
Because sharing is caring.
Frequently Asked Questions (FAQs).
Can you download iTunes on Chromebook?
Yes, you can download it by using three effective methods.
1. Using Chrome shortcut.
2. Using chrome Linux Beta.
3. Using chrome extension.
What are iTunes alternative for chromebook?
You can use the following apps instead of iTunes.
1. Youtube Musics.
2. Spotify.
3. Wink Music.
4. Gaana.
5. InstaDj.
Can you download iTunes on a Chromebook?
Yes, you can download it and listen to millions of songs on your chrome device.
Why can't I download iTunes on my Chromebook?
The 64-bit version of iTunes doesn't work on Chromebooks. That's why you can't able download it on your device.
Is it possible to get iTunes on a Chromebook?
Yes, this is. you can listen to iTunes music on chrome book by using Linux.
What version of iTunes works on Chromebook?
32-bit of iTunes works well on Chromebook using the "wine compatibility layer" Application.
What is a replacement app for iTunes on Chromebook?
If you want to use iTunes just to listen to music then, Spotify and YouTube music could be the best for you
Is Chromebook compatible with iTunes?
iTunes can't be directly installed on Chromebook OS but using compatibility layer apps you can use it without any issue. So, it's a win-win situation, where you can't use it directly but indirectly can and it is purely compatible.
Hey! This is Ravi, Technology Youtuber | Blogger by Passion | Entrepreneur by Nature. I love to share information related to Digital Marketing, Blogging, Technology, Gadgets, the Internet, and solving user's quarries.