Thinking to know, how to cancel Peacock on Roku tv? Or how to cancel Peacock subscription on Roku? Quarries keywords may be different but, the intent is always the same. There are lots of questions in your mind now. Might be something bad happening to you or having a bad experience.
So, if you are here to know, you cancel Peacock on Roku then you reached the right page and I promised that I will give you my best. So that, you didn't get any kind of problems while unsubscribing.
No matter, if you subscribe to it from Peacock's official website, google play store, app store, or from Roku. You will get all your solution here.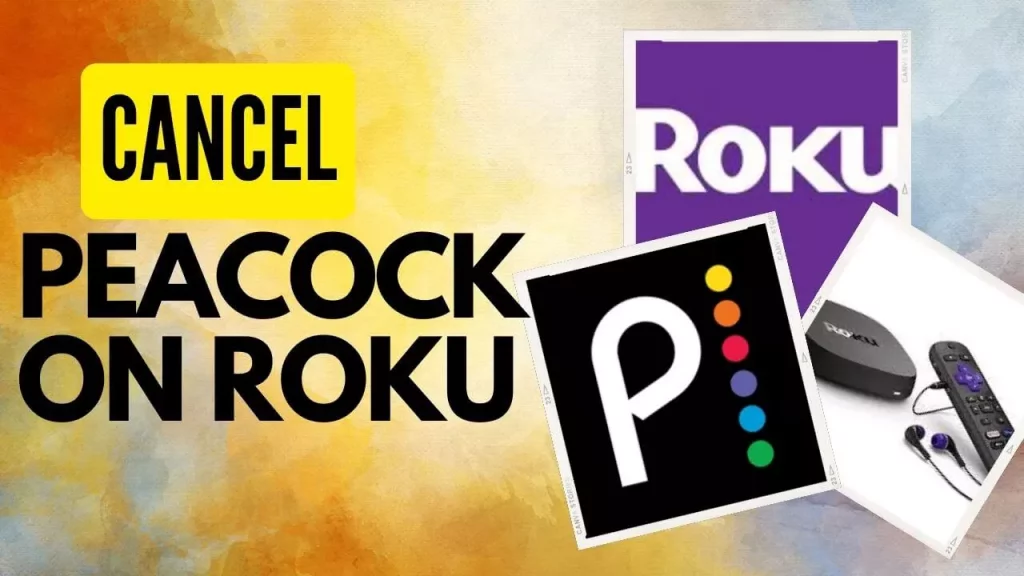 I'm using Peacock premium plus on my Roku for a year. And I can say, ya it's good. You can enjoy thousands of ad-free web series, movies, shows, etc. on it, even you can download it on your device and watch it offline too.
And the best part is you can upgrade, downgrade and even cancel premium and premium plus subscriptions anytime.
So let's see your problems one by one, and learn how you can overcome from all these.
There are three ways to cancel subscription on Roku.
Using the remote control.
Using website.
Calling customer service.


If you want to know, how do I cancel my Peacock subscription on Roku? A few things you shall have to keep in your mind are that Peacock is operating their services in a few countries which are, the US, UK, Italy, Ireland, Germany, Austria, and Switzerland
So your device should be physically located in these country streams. If you are not in your country and having fun in other countries.
In this situation, you should have to use VPN and make your IP is, in your connection country, if you are unsubscribing to Peacock from their official website, google play store or app store.
So let's see how can you cancel Peacock premium anytime step by step.
Using remote control.
Press the "Home" button on your Roku remote.
Now use the arrow buttons to highlight the subscription channel and press the "Star" button.
A popup will come up, and you will get so many options, only select "Manage Subscriptions".
Again, a popup message pop-ups, up where the next renewal period date will be written.
Now select "Cancel Subscription".
The final confirmation message will pop up again, select "Yes, cancel subscription".
That's it, your Peacock subscription has been canceled successfully, and no credit card will be charged next time for renewal.
Using Website.
I think this is the best and easiest way to manage your Roku subscriptions, even you can manage to cancel Roku subscription from phone using the same exact method. So let's see, How do I cancel Peacock's subscription using the web.
First of all, open any browser and search my.Roku.com.
Now sign in to your Roku account.
From the navigation menu, select "manage subscriptions".
You will get a list of subscribed channels, along with their status, terms, and validity date.
Now find Peacock, on the right side, you will see the "Unsubscribe" button click on it.
That's it, Peacock subscription is canceled now. But still, you can enjoy their free plans, where you still enjoy thousands of free series and movies along with ads.
Calling Customer Service.

If you don't know the login id of your Roku streaming then, another way to unsubscribe to Peacock tv is by calling, your Roku customer care executive. They will do this for you in just a few minutes. They will ask you a few questions and confirmation. That's it in just a few minutes you cancel the Peacock from your Roku streaming.
Conclusion.
As the company says Peacock is spreading their wings and now this is operating its services in more than 5 countries and continuing. So, users who are unsatisfied with services, can downgrade their subscriptions anytime and upgrade it according to their needs. But Peacock never let you alone, after canceling their services you can enjoy their free plans without any charge.
So you can enjoy and have fun with their free subscriptions. If you really found this one helpful, do share it with your friends and family, and cheers.
Frequently Asked Questions.
Can I cancel Peacock anytime?
Yes, you can unsubscribe Peacock subscriptions anytime, even you can upgrade and downgrade it whenever you want.
Can you cancel Peacock premium?
You can cancel Peacock premium and premium plus anytime.
Does Peacock TV refund after unsubscribe?
Unfortunately, not, there is no policy that claims that Peacock refunds. Instead after canceling your plan, till the end of the month, you can enjoy their subscription and they will not charge your credit card after unsubscribing to it.
Hey! This is Ravi, Technology Youtuber | Blogger by Passion | Entrepreneur by Nature. I love to share information related to Digital Marketing, Blogging, Technology, Gadgets, the Internet, and solving user's quarries.