Call forwarding is sending incoming phone calls to a different number. It can be put on Android and iPhone, and the steps to do so aren't too hard.
For example, if you use it, you won't have to worry about annoying calls from the office ruining your long, relaxing vacation.
If the device you usually use is having trouble, you can also have calls sent to another phone. So, learning how to forward calls on iPhone is extremely important.
You can forward calls that would typically ring on your iPhone to another number.
If you are going to be somewhere with lousy cell phone service, or if you won't be using your phone for a long time and don't want to miss important messages.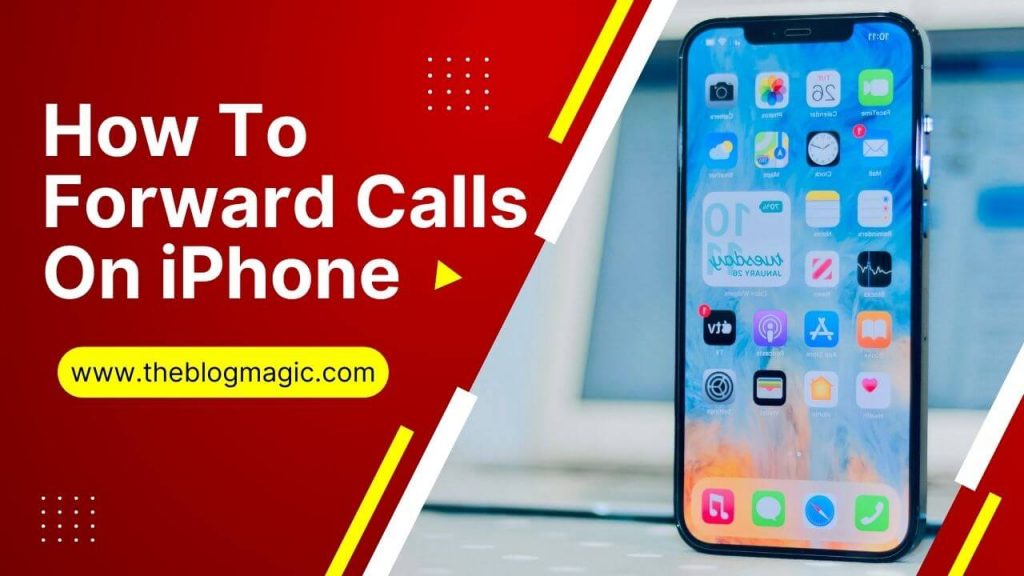 Set Up For Call Forwarding.
If your cell phone service is through a GSM network, you can set up both call waiting and forwarding on your Apple iPhone.
If you get your cell phone service through a CDMA network, you'll need to contact your Carrier to learn how to turn on and use these features.
When you have more than one phone number, there are many reasons to want to answer all your calls on a single device.
Also Read: (New Tricks✅) How To Turn Off Call Forwarding (In All Devices )?
Apple's iOS 12 lets users forward incoming calls to any number they want, and they can do this anytime. Despite what you might think, this feature isn't used as much as you think because of some limitations.
You need to set up call forwarding with mobile phone service. But you only have to do this the first time you set it up. After that, you can turn the phone off, and the forwarding function will still work.
Here are the steps of how to call forward with the iPhone-
Step 1: Go to Settings > Phone to start.
Step 2: Pick one of the following choices.
Transferring a call When call forwarding is turned on, the status bar will show a symbol for call forwarding. You need to be in the cellular network range to forward calls on an iPhone. If you aren't, the calls won't be sent to another number.
Step 3: Choose a line if your phone can use two SIM cards.
Call Waiting: If you are on a call and have call waiting turned off, all incoming calls will go straight to your voicemail.
Call waiting only works for incoming calls on the same line on phones with two SIM cards unless the second line supports Wi-Fi calling and a data connection.
You should now be set up so that any calls that come in will be sent to the number you gave. Once you're done forwarding calls, you need to go back to the Call Forwarding tab and turn off the service.
Call Forwarding for AT&T and T-Mobile.

If your cell phone service is with AT&T or T-Mobile, follow these steps to set up call forwarding in the Settings app on your iPhone:
Select the Settings icon located on the home screen of your iPhone device.
Tap the "Phone" option after scrolling down the page.
Access the Call Forwarding menu.
To activate call forwarding, move the slider next to it so it is in the On position (green).
To forward your calls to a different number, tap the Forward To button, then use the on-screen keyboard to input the number.
If your iPhone supports two SIM cards, choose the one you want to use.
Simply selecting the Call Forwarding option at the top of the page will allow you to save your changes and return to the screen you were on.
Can I Forward My Calls From My iPhone To Another Number?
If you can't answer your phone and want someone else to do so, you can easily set up your iPhone to send calls to a different number.
Make sure your Carrier supports Call Forwarding before you move on with the steps to forward calls from an iPhone to another.
Also Read: How do I Fix Unable to Send Message – Message Blocking is Active iPhone?
There is a chance that some carriers will charge you extra fees for this service. Because of this, you must check with your Carrier to avoid any unpleasant surprises.
This is the setup for how to forward calls to another number.
How Do I Forward A Specific Call On My iPhone?
You need to Configure iPhone Conditional Call Forwarding. The Apple iPhone users have to follow right away. Call Forwarding can be turned on or off, but after a few rings, you won't be able to make it work.
This feature is called Conditional Call Forwarding, and it lets you tell your iPhone to send a call to a different number if you don't answer it after a certain number of rings or after a certain amount of time.
Conditional Forwarding is a feature that carriers offer that lets calls be automatically sent to a different phone number depending on whether or not certain conditions are met.
Most service providers will let you forward calls to another number when your phone is busy, out of service, or hasn't been answered for a long time.
How Do I Take Call Forwarding Off My iPhone?

Read along if you want to learn how to turn off call forwarding. After you sign up for the service and give the phone number where you want your calls to go, call Forwarding will happen independently.
The new number is now being used for all calls, and you don't have to do anything else with your iPhone until you turn off call forwarding.
Call forwarding can be turned off by going back to the method that was used to set it up in the first place. If you turn on the feature in the Settings app, you can turn it off in the Phone section of the Settings app.
If you used the 72 code instead, you would need to dial 73*, a pound sign, and then no phone number to stop call forwarding.
If you used the 21 code to set up call forwarding on your T-Mobile phone, you could turn it off by dialing ##21#.
Listen for the tone or message that tells you that the call-forwarding feature has been turned off. Now, your calls will go to your iPhone like they usually do.
How To Redirect Incoming Phone Calls On An iPhone?
Step-1: Launch the Settings app on your device.
Step-2: Tap "Phone" to proceed (about halfway down).
Step-3: You need to choose "Call Forwarding" from the menu.
Step-4: Move the button to the right of its current position to activate call forwarding.
Step-5: You need to choose "Forward To" from the menu.
Step-6: In the last step, enter the phone number of the location where you want calls to be directed.
Step-7: You can easily save your changes by tapping the back button when you are done.
Call Forwarding When You Are A Verizon User.
Now that you know how to forward calls on iPhone, you need to understand call forwarding if you have Verizon.
The feature for forwarding calls has been turned on! If you use Verizon, you can forward calls on your iPhone by calling *72 and then the number you want to send calls to.
Customers of Verizon can choose this option. Just dial *73 and then the phone number to which you no longer want Verizon to forward calls, and the service will be turned off.
This will stop calls from being sent to another number. Before you use this feature, make sure to talk to Verizon about how to do it.
Hey! This is Ravi, Technology Youtuber | Blogger by Passion | Entrepreneur by Nature. I love to share information related to Digital Marketing, Blogging, Technology, Gadgets, the Internet, and solving user's quarries.