Are you tired of trying to share wifi password from your Mac computer to iPhone? And wanted to know, how to share wifi password from mac to iPhone? Or anyway you share wifi password mac to iPhone but not working?
Don't worry, you will get to know all ways and process step by step.
Along with the release of iOS 11 by Apple, a brand-new feature called "Share Your WiFi" was also made available.
With this feature, you can share the password for your WiFi network with other people who have devices that run iOS 11 or later or computers that run macOS High Sierra or later.
Learning how to share wifi password from mac to iPhone makes it much easier to remember than if you had to remember it yourself.
When you need to move a Wi-Fi password from a Mac to an iPhone, you can do it quickly between your own devices and those of friends or family members who also use Apple products.
This post tells you how to quickly share your Wi-Fi network with other people without telling them the password.
With Apple's Wi-Fi sharing feature, you can easily and quickly connect many devices to the internet at the same time.
Using the user's Apple ID, Wi-Fi, and Bluetooth technology, it sends Wi-Fi passwords to other devices in a safe way.
If you connect your iPhone to the Internet and share it with another Apple device, you won't have to tell anyone your WiFi password.
In the past, you had to download an app from somewhere else to do this.
With the release of iOS 11, Apple has made it easier to send a WiFi password from one iPhone to another iPhone, an iPad, or any Mac running macOS Sierra or a later version.
Requirements For Sharing Your WiFi Connection On Your iPhone or Mac
Both devices must have their WiFi and Bluetooth turned on for this to work.
The Personal Hotspot feature needs to be turned off on both devices.
Sharing your Wi-Fi password is accomplished using the contacts that are stored on your phone. Make sure that the Apple ID of both devices has been stored as a contact on each of the devices in question.
Both devices must be close to each other and within the Bluetooth and WiFi ranges for them to work together.
To successfully transmit the password, two devices must be within proximity to one another. You can't carry out these actions remotely.
On the other device, the Contacts app needs to have a copy of your Apple ID.
Sharing passwords can only be done on computers with macOS High Sierra or later and mobile devices with iOS 11 or later.
On each of your devices, you will also need to be signed in to an iCloud account in addition to your Apple ID.
If you are using devices that are linked to two different iCloud accounts, you need to make sure that each person has the other's email address saved in their contacts.

Assuming that everything in the previous section has been done, turn on Bluetooth and Wi-Fi on both your Mac and your iPhone.
If you have set up a personal hotspot on any of your devices, turn it off. Place the iPhone close to the Mac, no more than about 20 feet away and you can see how to request wifi password.
Step 1: Verify your Mac's unlock status and WiFi network connection.
Step 2: Choose a WiFi network on the device you wish to connect to or on someone else's (an iPhone).
Step 3: Next, choose the share wifi password iPhone option on your device (Mac) when requested.
Step 4: The last step is to click Done.
Your Mac's Wi-Fi network password will be sent wirelessly to your iPhone, which will then join the network.
Steps For How To Share WiFi Password To Mac. To easily join a nearby wireless network, utilize the Wi-Fi menu.
Step 1: The first thing you'll want to do is check that your iPhone can be unlocked and that it's linked to your Wi-Fi network.
Step 2: If you're using a Mac, locate the Wi-Fi icon in the menu bar and click it. Then, choose the Wi-Fi network you want to connect to from the list. When requested to enter the password for the network, do not input it.
Step 3: Select share wifi password iPhone from the menu options on the Apple iPhone. You will see that the password box on the Mac will quickly connect after having the password automatically filled in for you. After successfully sharing your Wi-Fi password, proceed to touch the "Done" button.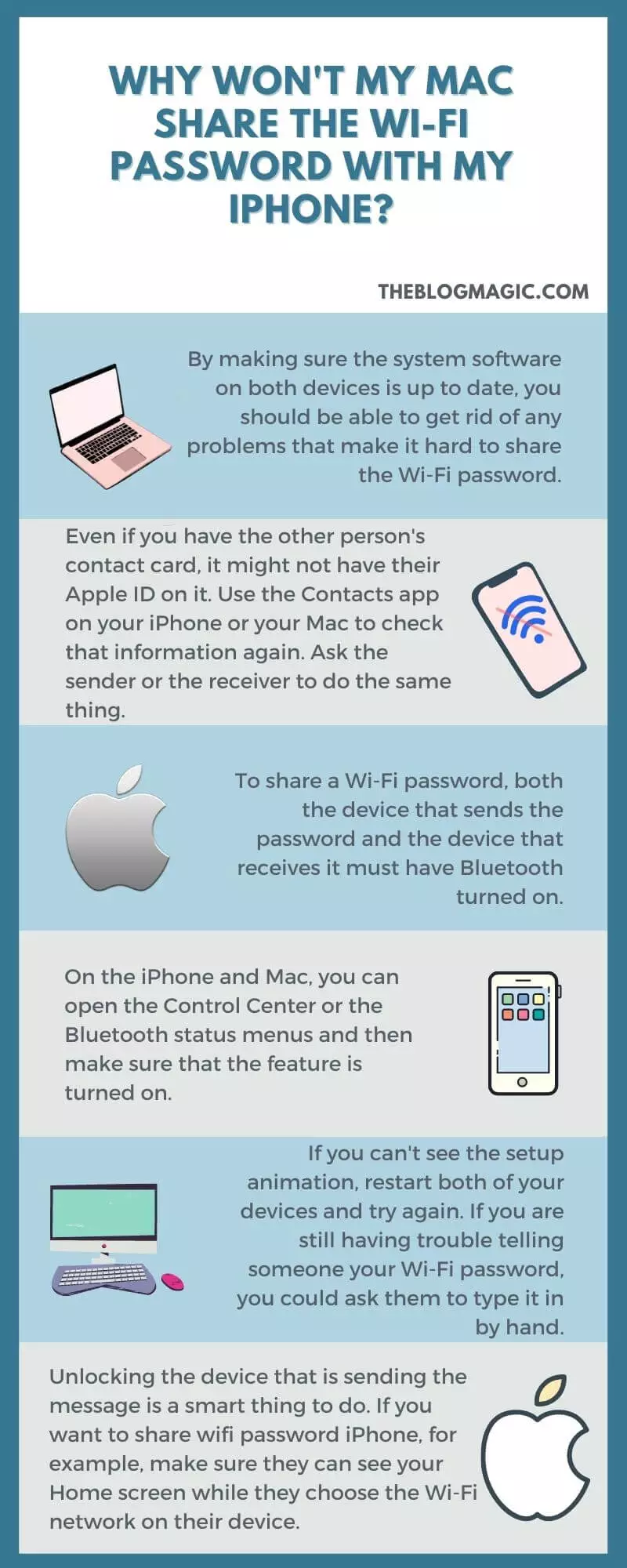 Here are some tips to try when you are trying to share wifi password mac to iphone but not working-
If the first time you try to share the WiFi password doesn't work, restart both of your devices and try sharing the WiFi password again to see if it now works.
If it keeps giving you trouble, you can get more help from Apple Support or call your Internet service provider to find out how your WiFi network is doing right now.
By making sure the system software on both devices is up to date, you should be able to get rid of any problems that make it hard to share the Wi-Fi password.
Even if you have the other person's contact card, it might not have their Apple ID on it. Use the Contacts app on your iPhone or your Mac to check that information again. Ask the sender or the receiver to do the same thing.
To share a Wi-Fi password, both the device that sends the password and the device that receives it must have Bluetooth turned on. On the Apple iPhone and Mac, you can open the Control Center or the Bluetooth status menus and then make sure that the feature is turned on.
If you can't see the setup animation, restart both of your devices and try again. If you are still having trouble telling someone your Wi-Fi password, you could ask them to type it in by hand.
Unlocking the device that is sending the message is a smart thing to do. If you want to share wifi password iPhone, for example, make sure they can see your Home screen while they choose the Wi-Fi network on their device.
Setting Up A Connection Between An iPhone And WiFi.
Using the steps we just went over, you can share a WiFi password on an iPhone quickly and easily in a matter of seconds. Just keep the two devices close to one another.
Your Bluetooth radios will only work well if they are close enough to each other. They do not need to be stacked on top of each other in any way.
This feature is useful if someone comes to your house and wants to connect to your network without having to type in a complicated password.
If it doesn't work, the most important thing to remember is to make sure that the Apple IDs of both users are saved in their contacts.
How Do I AirDrop My Wi-Fi Password From My iPhone?
A Wi-Fi password cannot be AirDropped from an Apple device to a Mac. However, you may use AirDrop in Safari to exchange website passwords that you've stored in your iCloud Keychain.
Choose Safari > Preferences > Passwords from the browser menu. Then, control-click the website's password and choose Share with AirDrop. Then, locate the person you want to send the password to and click Done.
How Can I Connect My Android Phone To The Wi-Fi Network On My iPhone?
Apple's phones and tablets don't come with a built-in feature that lets you share the password for your Wi-Fi network with Android phones.
You will instead need a third-party program to make a QR code that can be read by a scanner.
Conclusion
Depending on how you look at it, choosing a complicated password for your WiFi network can be both good and bad.
Because of this, people who aren't supposed to be on your network won't be able to get on.
The main problem is that it's harder to share with friends or family members who want to use your WiFi network. Apple has made a way for people who use Apple products to easily share a WiFi network with other Apple users.
Hey! This is Ravi, Technology Youtuber | Blogger by Passion | Entrepreneur by Nature. I love to share information related to Digital Marketing, Blogging, Technology, Gadgets, the Internet, and solving user's quarries.