Have you ever faced problems with your iPhone while texting your loved one? Did you also get the same error "message blocking is active iPhone"?
Generally, this error is found in T-Mobile carriers but is not limited to it. Sometimes you get the same error, due to carriers or smartphones too.
Many of the users complain they are getting the same error, consumer cellular message blocking is active in smartphone-like lycamobile, boost mobile, and TracFone.
If you still don't read, how to fix message blocking is active in android? I recommended you to read it first because, I shared some important points there, might be these points help you a lot.
Anyway, let's dive into the solution, of why is message blocking active on my iPhone? And how to fix it?
Why is Message Blocking Active on My iPhone?
When you are sending a message and then see a warning message that "free message unable to send message". Here the reason behind it could be.
Your carrier is blocking you to send this message.
Your iphone which is blocking you to send the message.
Carrier is Blocking to Send Message.
When your carrier is blocking, this means you don't have permission to send SMS. Maybe you don't have their premium plan, you have only Data and Voice plan.
Also, check the type of messages you are trying to send such as SMS, and MMS are supported by your carrier or not. Want to know, how to install iTunes on Chromebook?
So, in this case, you should have to check your current plan by calling or dialing the USSD code. Different carrier has different care toll free numbers and USSD numbers.
Now you have checked and your plan allows you to send SMS then, in this case, you have to wait for few minutes and again try to send SMS to the recipient.
Because due to some technical problems this type of blocking issue appears iPhone.
Now try again, if still having the same problems, restart your iPhone and try to send SMS again. I hope this time it will work and if not, just call your care to resolve the problems. Also, want to some hidden iOS features of iPhone?
iPhone is Blocking to Send Messages.
I have something for you, you should try. If your carrier is working well then, might be iPhone is facing some major problems that blocking it to send messages to the recipient.
Also Read: How Do I Fix Lycamobile Message Blocking Is Active?
Reasons could be anything, maybe any application is blocking it, or by mistake and you don't have any idea about it, you changed message settings.
This can also happen, you put the wrong phone number or email address of the recipient.
So, check at least once the above key points.
Now it is time to do some advanced steps to solve the problems if the above didn't work for you.
So, first of all, make sure your iPhone, iPad, or iPod is up to date to its latest version of iOS.
Check carrier (Wi-Fi and Cellular) settings is up to date in you iPhone.
Check your carrier's network is working properly. If you have Wi-Fi calling turn it on. In iPhone you can send SMS and MMS over Wi-Fi.
Contact to your carrier care and ask for, does this carrier support SMS, or MMS and others.
If you are sending group MMS or to individual. Turn on MMS settings from your carrier settings. If you are not seeing any option there, contact to your network.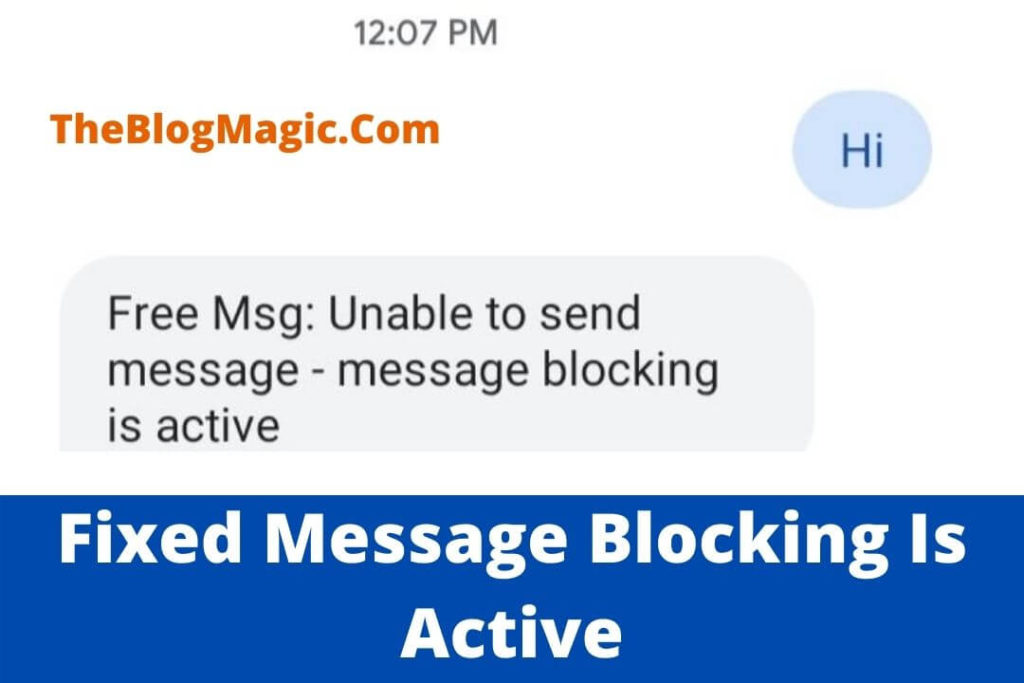 How do I Fix Unable to Send Message – Message Blocking is Active iPhone?
Now you took all the possible actions you can but still disappoint. Don't worry I'm sharing with you "Ram Baan" that never miss. Jokes apart but now you should try this.
In 80% of the cases, this will work. After following this step still, the problem. Please complain to your Apple Care.
So, come to the point. Check your iMessaging. Turn it off and then try to send the text messages. If the message is delivered without any cause then it is much possible iMessage is interfering in sending a message.
To resolve this issue you have to log out your Apple ID and sign in it again.
I hope this time your problems will be resolve.
Frequently Asked Questions (FAQs).
What does message blocking is active mean on iPhone?
It means your message is not delivering to reciepient. Maybe due to technical problems or iPhone issue.
How to turn off message blocking on iPhone 11?
Try to logout from iMessaging and again log in with Apple ID after some time. This will fix your messaging issue.
Hey! This is Ravi, Technology Youtuber | Blogger by Passion | Entrepreneur by Nature. I love to share information related to Digital Marketing, Blogging, Technology, Gadgets, the Internet, and solving user's quarries.