Sharing saved Wi-Fi passwords from iPhone is not an easy task when you forget it. Have you done the same, that's why wanted to know, how to see wifi password on iPhone? Or how to find wifi password on iPhone without jailbreak?
Quarries could be different but the intent is the same.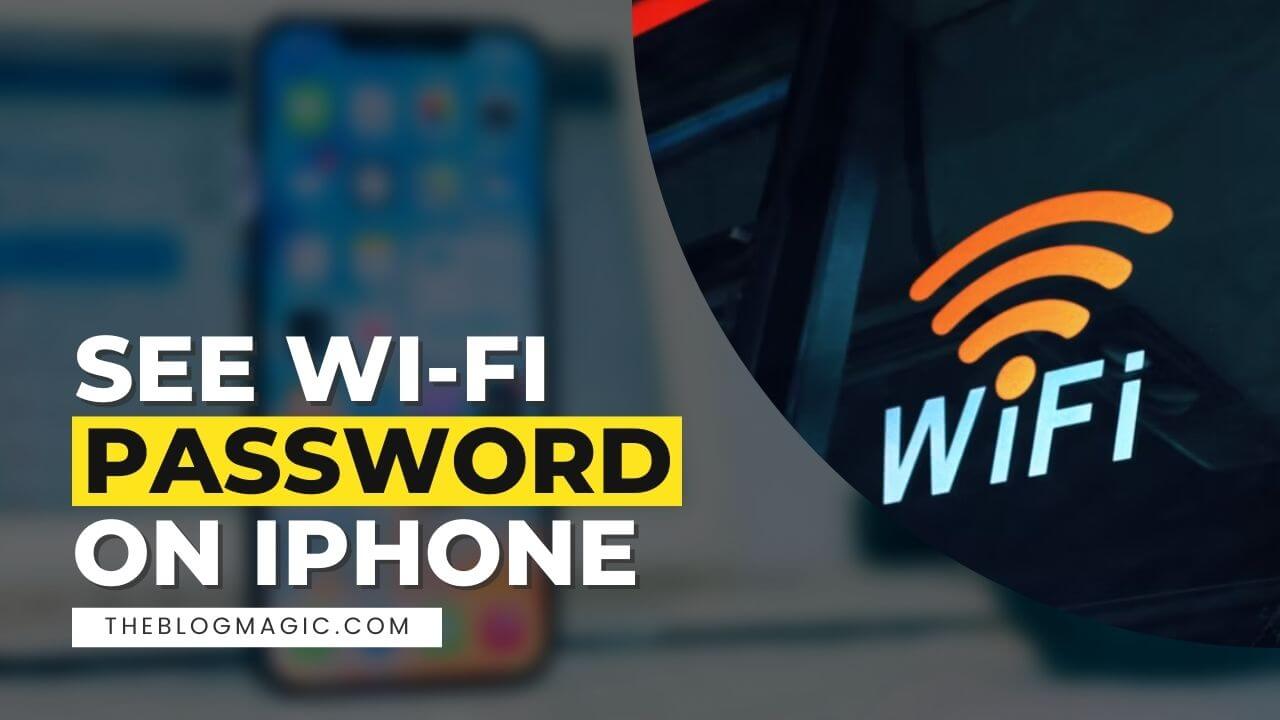 A saved wifi password on your phone helps you to connect automatically with the network without entering the password, that's why you do not need to remember the password.
If you want to know wifi password for android, you can follow this, how to see wifi password on android?
And this is the cause you forget the passcode. And this is common because our brain is developed like this, usually, we forget the things that our brain feels it is not necessary.
Also Read: 7 Easy Ways, How To Turn Off Message Blocking On iPhone?
Well, don't worry. I have multiple ways through which you can view saved wifi passwords on iPhone device.
iPhone is known for its premium design and strong security OS. Its OS security is better enough than Android OS.
So, let's see, what are the ways or how to access your wifi password on iPhone?
How To View Saved WiFi Password On iPhone OS 2022?
iPhone which is known for its strong security operating system will never allow you to access the root directory to see saved wifi passwords because keys are saved into the root directory of the mobile.
So, for this, you have to jailbreak or root your mobile. But don't worry, I have 4 alternative ways by which you can see saved wifi passwords and can be used on other smartphones.
Before sharing the wifi passkey, you have to make sure that your iPhone, iOS, macOS, or iPod OS has its latest updates. Otherwise, this process will not work properly.
Also Read: How do I Fix Message Blocking is Active iPhone?
First of all, "turn on Wi-Fi and Bluetooth on both devices". If any device's hotspot is turned on, turn it off.
Then, sign in to iPhone's iCloud with your Apple ID.
Know this step carefully, make sure the email id that you used in your Apple ID while creating it, is saved to another person's iPhone contact, and also the person's email Id that he or she used in their Apple ID is saved in your contact.
Keep both devices close or physically touched so that their proximity sensor does its password-sharing task.
Now make sure, your device is unlocked and connected to that Wi-Fi network, with whom you want to share a password from your mobile.
Now, select the person's mobile's wi-fi network that you want to connect to.
Your device popup a password sharing notification. Confirm it and share the password.
That is, you have done and knew, how to find wifi password on phone when connected?
Note: if you didn't find the share password popup, restart both iPhones.
Method 2. How To See WiFi Password On iPhone Without MAC OS?
In android OS, when you click on the connected wifi network name. it popup a QR code, and when you scan that network you will see the password of the wifi network.
If you think you can also see a passcode like this then is not possible for now. Maybe in new iOS updates, iPhone supports that kind of feature.
But for now, how can I see my saved wifi password. So if you are connected to the router then this method will definitely help you a lot.
Also Read: 3 Easy Ways To Install iTunes For Chromebook.
First of all, go to settings and then select "Wi-Fi".
You will see your connected wifi network. Next to the wifi network, there is an "i" button click on it.
Scroll down and you will see the router's IP address, just below the "Subnet Mask".
Copy the IP address and paste it to the browser, and you will be redirected to the router admin login page.
Enter the router credentials.
Depending on your router model, the different router has different method but try to understand the concept. So find wireless network navigation and enter it.
Now, you will see the connected network name, click on it, and then tick the show password box.
You will see your saved wifi password there.
You knew the saved wifi password, and you can use it on another smartphone and enjoy the internet.
Method 3. How To Get WiFi Password From iPhone to Computer By Using iCloud Keychain On MAC OS?
Apple devices build its ecosystem. All devices are synced in real-time and this is the best part of it.
If you do any changes in saved data in your iPhone mobile it reflects on your iMac device, iPod, or iPad. And using this advanced feature you can easily get a saved passcode.
Getting a wifi password using iCloud Keychain is the best method. Because, in this method, you don't need to install any external software, log in to the router admin panel, or jailbreak your iPhone smart mobile.
Also Read: How to Find WiFi Password on Chromebook?
First of all, make sure you have signed with iCloud on your iPhone, and also sign in to iCloud in MAC using the same Apple ID. And enable the iCloud Keychain on both devices.
Now go to the "launchpad", and go to other. Then select "keychain access" and open it.
Once it opens, in the left navigation menu, select iCloud.
After selecting "iCloud", select the password from the category section (which is at the left bottom navigation).
Now find the wifi name from the right side.
After getting the wifi name, double click on it.
A popup window will open, tick the show password box.
Another popup window will open and ask you to enter the password. Enter "MAC's OS login password" there, and select ok.
Ta-da, the password will visible.
Now, use it on another device.
Method 4. How To Find WIFI Password On iPhone Without Jailbreak?

You are entering the wrong passcode to connect with wifi that you connect to earlier but now you forget the key. Usually, this happens, so don't worry, where there is a will, there is a way.
If you didn't want to root your device then you can try this method. This will help you to find wifi password on iPhone without jailbreaking.
Using this 4uKey software can help you to get lost passwords because the data is always saved in the device only their path vanishes. And this software finds path.
So let's see how you can use external software to get wifi passkey on iPhone.
Also Read: Fixed: Why is Alexa not Responding to My Voice Command?
First of all, attached your iPhone to the computer (windows, or MAC).
Now the most important step is, to disable Find my iPhone.
After that download and install the 4uKey password manager on your computer.
Open 4uKey password manager, from the left side navigation menu, and view iOS device password is selected by default.
Click on "start". The scanning process will start.
4uKey will ask you to enter your iPhone password twice while scanning, just enters the password.
After successful scanning, the password panel will open.
Select wifi account from left navigation.
That's it, all your saved wifi names and their password will show in the right field.
You can also export all the passwords and use them on any smartphone.
Hey! This is Ravi, Technology Youtuber | Blogger by Passion | Entrepreneur by Nature. I love to share information related to Digital Marketing, Blogging, Technology, Gadgets, the Internet, and solving user's quarries.