Are you connected to a network that you don't know the password to? Or wanted to know someone's wifi password that already connected in past? That's why you are searching for, how to see wifi password on android? Or how can I see my saved Wi-Fi password on android mobile?
Questions could be anything, the important is the intent that you are searching for. And the best part is you reached the right page that you actually want.
Android occupied almost 71.6% of the Android OS market share and that's a huge number. The technology of smartphones is increasing very rapidly. Imagine a decades ago, compare the smart mobile now with decades.
You will see drastic improvements in this field and that's a good thing.
But you are here to know, see your saved wifi on android. So without any further delay let's start.
Hey! Listen, if you have a Chromebook device, and you want to know, how to see save wifi password on Chromebook device? You can follow the link to know.
How To See WiFi Password On Android?
It's a high chance that you have connected with several networks. Maybe in past, you connected to your friends' hotspot network, restaurant Wi-Fi network, college Wi-Fi network, or home network and you want to again connect with these networks but you forget the password.
And it's human nature that after sometimes or a few days later you forget that password. So, these ways you can get the password for android without rooting your mobile. Also want to see the saved wifi password on iPhone, follow how to see saved wifi password on iPhone?
Wi-Fi passwords are saved in the root directory of the mobile but the android OS 10 and above 10 allows you to see saved WIFI password on android without being a Wi-Fi password hacker.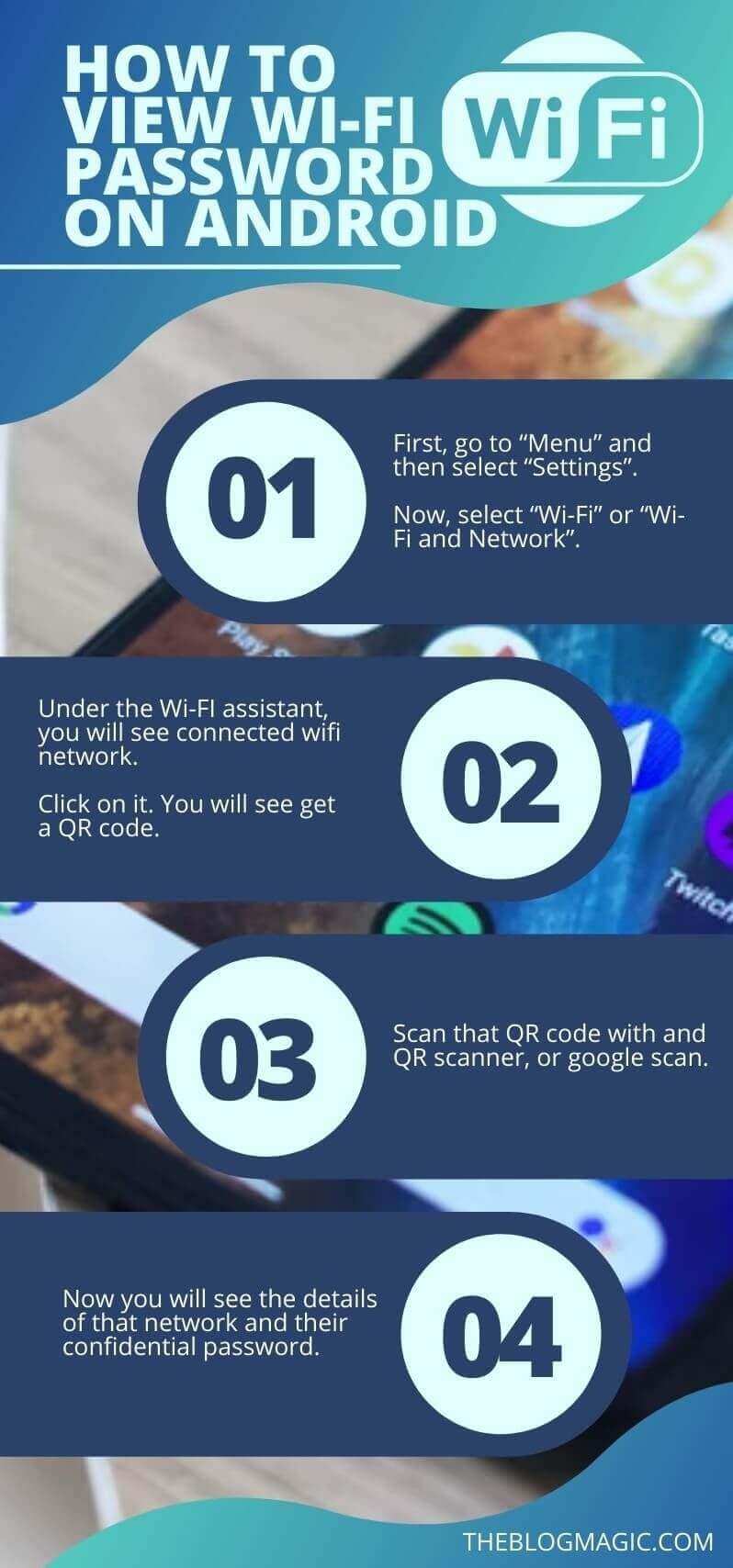 I mean to say, you do not need to root your device to view saved password files.
But you need to understand that if your mobile phone OS is lower than android 10 then, you have to root your smart mobile to see the Wi-Fi password on your phone.
It also has some alternatives, some paid and free software allows you to enter into the root directory without being rooted in your phone.
And this is a great thing because there is a big security risk when you root your mobile. Because, after rooting you welcome the hacker to enter your smartphone because you break their security patch by rooting the phone.
How To Find WiFi Password On Phone When Connected?
This is the easiest way to find and see the password on stock android, android 10, and above 10 OS.
You didn't need any external application or software to enter into root directories and see the saved wifi password on the stock android OS and OS 10 or above it.
To see the password, you have to understand the whole concept because the process may vary on the android UI version. So, you have to understand the concept. The below process is for Redmi Note 10.
First of all, go to "Menu" and then select "Settings".
Now, select "Wi-Fi" or "Wi-Fi and Network".
Under the Wi-FI assistant, you will see a connected wifi network.
Click on it. You will see get a QR code.
Scan that QR code with and QR scanner, or google scan.
Now you will see the details of that network and their confidential password.
How to see wifi password on android without QR code?
If you want to view passwords with a QR code then this could be tricky for you because you have to enter into developer mode.
Mean, you have to root your android device. The android OS running 9 or below needs to be rooted to see the saved wifi password.
Because the information and data are held the device is saved into the ultra-protected directory that no one can access without additional privilege.
So, you have to root your mobile to see the saved wifi password.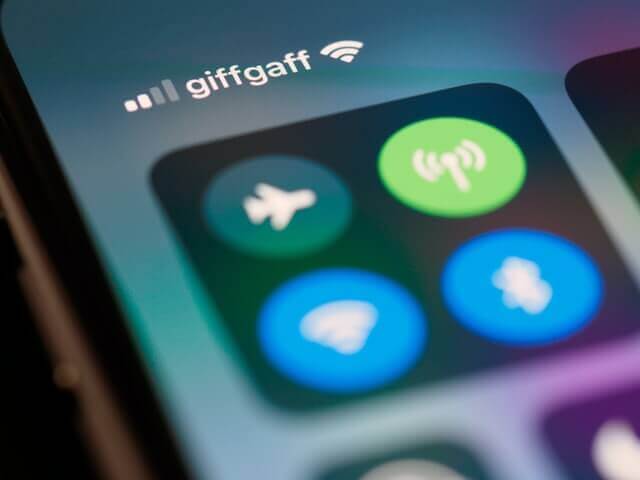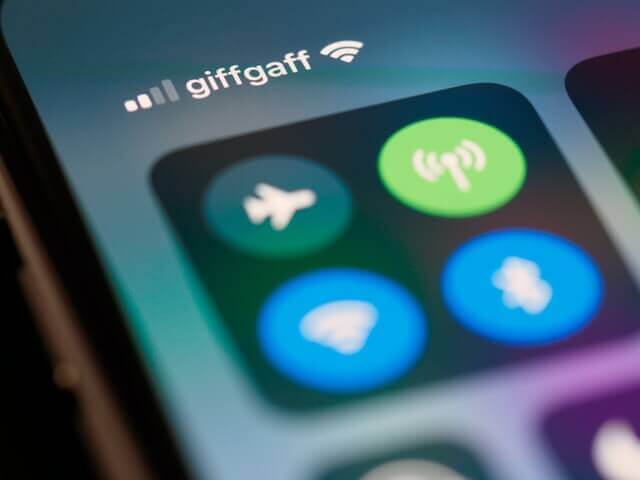 After rooted, you can manually find the path and see the key or you can also any Wi-Fi password viewer app to locate the path of the directory where the password is saved.
So to view the saved key of wifi follow the path. Go to file manager and follow the path.
Data > misc > wifi > wpa_supplicant.conf
Now you will see your network name (SSID) and password (PSK). That's it, you get your saved wifi key.
How To View Saved WiFi Password On Android Without Root?
You don't want to root your mobile because you know when you root your phone, you will also lose its security patches and open an additional door for hackers and malware that can harm you. What to do in this case.
Well don't worry, here is two option that you can try, generally, it works for all types of android OS, no matter whether you want to see WIFI password on android Samsung, or android 6, android 7, OS 8, OS 9, android OS 10, 11 or 12. This works for all.
Method 1.
In android OS, you use a Google account to sync all your personal and professional data to Google drive. On a regular basis of time, Google synced your data to their cloud server and drive (Google Drive).
So if you saved your password on your phone then it is a high chance that the Wi-Fi key is also synced. In this case, you can log in to your google account to another android phone that you want to connect with that network.
After login google account on another android, the smartphone will be synced with WIFI credentials from google drive. Now, try to connect with that network.
Method 2.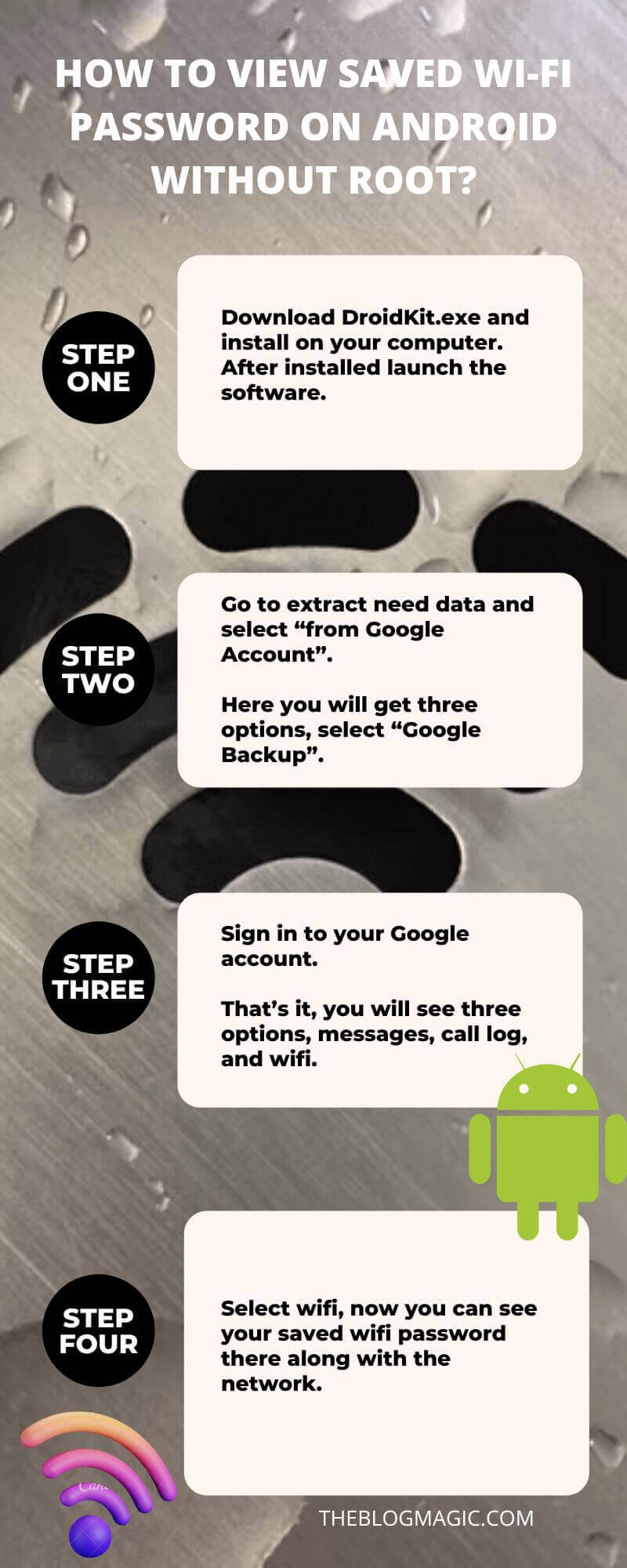 Using DroidKit, I think this is the best method if your android OS is lower than 10. With the help of this software, you can easily see your wi-fi key on android mobile by using a google account.
DroidKit is a software that helps you to recover your smartphone data such as Wi-Fi passcode, WhatsApp messages, phone calls, pictures, bypass google account verification on Samsung mobile, and much more.
Let's see how you can use DroidKit to know, how to view wifi password on android 8, 9, or lower.
Download DroidKit.exe and install it on your computer. After installation launch the software.
Go to extract needed data and select "from Google Account".
Here you will get three options, select "Google Backup".
Sign in to your Google account.
That's it, you will see three options, messages, call log, and wifi.
Select wifi, now you can see your saved wifi password there along with the network.
How To Check WiFi Password On Android Using ES File Explorer?
Es file explorer, which is a great app that allows you to see the Wi-Fi key. But keep in mind, again you need to root your Android smartphone to see the passcode.
Because all these kinds of credentials are stored in root directories and only developers can enter into them. Unknown authorization is strictly prohibited.
These are the steps to see android saved wifi passcode by using es file explorer.
Open "Es File Explorer", and tap on "upper right three horizontal lines".
Scroll down, and select "Tool".
A dropdown menu appears, select enable root directories.
Now, navigate the path, Data > misc > wifi > wpa_supplicant.conf
Using an HTML viewer or browser open the file "wpa_supplicant.conf". Here it is, you will see your wifi network name (SSID), and Passcode (.PSK).
Also Read: How To Download YouTube Shorts Video?
Frequently Asked Questions.
How to view wifi password on android using pc?
Install DroidKit on your pc and login it with your Google account that you use on your smartphone where you saved your wifi password. Now synced the DroidKit with google account. You will see a google backup option select it and backup your saved wifi key.
Hey! This is Ravi, Technology Youtuber | Blogger by Passion | Entrepreneur by Nature. I love to share information related to Digital Marketing, Blogging, Technology, Gadgets, the Internet, and solving user's quarries.