Discover Kodi, the community-supported media software that enables you to access a vast array of video and audio content. Whether you prefer to enjoy your media on a TV, laptop, smartphone, or tablet, Kodi has you covered.
With its Smart TV-like interface, Kodi can open virtually any type of media without having its own Kodi movies library.
Simply access your locally stored files or tap into online resources for endless entertainment possibilities. You can read more about using Kodi in this guide.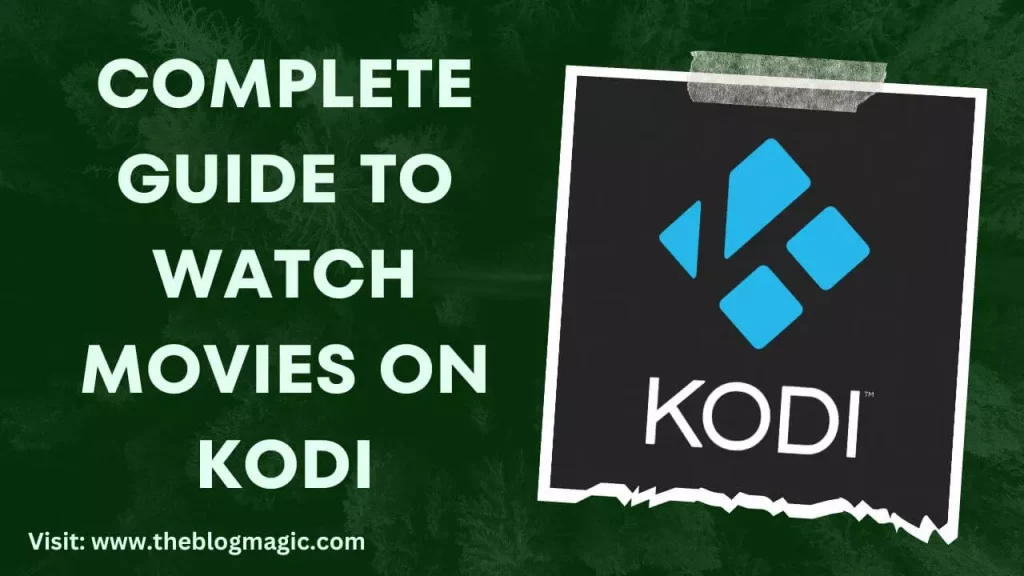 How to use Kodi player?
Want to play a video that's saved on your computer? No problem! Just head to the menu and select "Movies," "TV shows," or "Videos," then choose the file you want to watch.
If your file isn't recognized by Kodi yet, simply click "Add videos…" to add it. From there, you can browse your files and select the desired folder.
Be sure to specify that the folder contains videos and give it a name, and voila! Your video will appear on the program's list and you'll be ready to watch.
How to add movies to Kodi?
Discover videos easily with these steps:
1. Go to the menu and select Files.
2. Choose to Add Videos.
3. Browse for the video you want to watch.
4. Select Ok twice to complete the process.
What are add-ons best for movies on Kodi?
I wonder why can't I watch movies on Kodi. Most likely, you just installed the basic version of the player, which can do a lot of things.
It reproduces local files well if we are talking about simple formats. However, Kodi is known for being easily extensible.
With the help of add-ons, you can increase format support, set up streaming from Netflix, and watch TV.
There are also add-ons that provide access to a library of movies that can be watched directly through the player. In general, there are many reasons for you to learn how to work with add-ons.
Also Read: How To Cancel Peacock On Roku?
1. CastagnaIT for Netflix

How do I watch Netflix movies on Kodi? Get Netflix on Kodi easily with the CastagnalIT plugin, an open-source solution that guarantees no funny business or malware. Just follow these simple steps:
Update or install Kodi (version 18 or later).
Download the Netflix repository file from GitHub.
Go to "Settings" Kodi, and select the "Add-ons" tab.
From the available options select "Install from zip file".
Find the downloaded CastagnaIT file and wait for it to install.
You can stream Netflix through Kodi.
Also Read: 13 Ways Fix: Roku Remote Volume Not Working?
It will not be difficult for you to figure out how to watch movies on Kodi, including online. However, there are hidden nuances that are usually not talked about.
Watching movies on Firestick Kodi is not so safe, some viruses may enter the system. But there is also a simple solution – use VPN for Kodi, and be sure to come from a good developer.
From this perspective, it is appropriate to advise VeePN – it is a VPN with a good reputation and a high rating, as well as thousands of high-speed servers.
2. Exodus Redux.
Looking for the best Kodi add-on out there? Look no further than Exodus. With regular updates and top-notch performance, it's the go-to option for movie lovers.
Just remember to use a VPN for Kodi to keep your streaming activity secure and private.
3. Venom.
Looking for a wide range of movies and TV series to stream? Look no further than Venom. This add-on may not have fancy categories, but it boasts a massive library of popular titles and uses high-quality links from numerous sources. Get ready for an enjoyable binge-watching experience!
Also Read: (Fixed) Roku Stick Overheating: Effective Method That Works.
4. Amazon Prime Video.
As an Amazon Prime subscriber, you get free access to Prime Video. To make navigating its complex and unintuitive menus easier, you can use Kodi as a tool. Plus, with this option, you can watch movies on Firestick Kodi.
5. Tempest.
Tempest offers an extensive collection of top-notch movies to stream on Kodi. Whether you're into current blockbusters or looking to revisit an old favorite, this add-on has got you covered.
Its streaming capabilities are impressive, locating and verifying working streams in no time. Keep up with the latest releases and indulge in your nostalgia with ease.
Also Read: 19 Effective Way To Fix Firestick Keeps Restarting Issue.
6. Snag Films.
Discover a vast selection of licensed content on SnagFilms, an online platform similar to FilmRise.
While not every title may be available, there is still an impressive collection to explore, making SnagFilms a great companion to its larger sibling.
7. Classic Cinema.
Attention all history buffs and movie lovers! Looking for a treasure trove of classic films and TV shows? Look no further than the Classic Cinema Online add-on.
This genius add-on scours the web for public domain content and consolidates it into one convenient location for your viewing pleasure.
Don't miss out on exploring the rich history of cinema and television with this must-have add-on.
8. FilmRise.
Discover FilmRise – the platform that brings free access to a wide range of movies and TV series.
With their content hosted on YouTube, this impressive service now offers the advantage of consolidating all your favorite films and shows in one place on Kodi.
9. GAIA.
Find a minimalistic streaming platform for movies and TV series you love! Gaia offers an on-demand interface that is easy to navigate and browse under different content categories such as Movies, Series, Documentaries, and Comedy.
Enjoy your video content with one click, knowing that we always search for the best streaming option from multiple servers.
10. The Magic Dragon.
Upgrade your TV and movie viewing experience with our ultimate solution! Explore our vast and diverse library of titles to keep you entertained for years to come.
Our user-friendly interface and high-quality streaming performance have already made us a favorite among Kodi users worldwide.
Don't wait any longer to add this must-have add-on to your collection and take your Kodi experience to the next level!
Conclusion.
To truly enhance your Kodi experience, it's important to consider both add-ons and tools. Protect your online privacy and secure your streaming activity by using a reliable VPN for Kodi.
Additionally, choose an add-on with top-notch content that aligns with your preferences for an optimized viewing experience.
Hey! This is Ravi, Technology Youtuber | Blogger by Passion | Entrepreneur by Nature. I love to share information related to Digital Marketing, Blogging, Technology, Gadgets, the Internet, and solving user's quarries.