Want to know, how to play Friday night funkin on Chromebook? Or how to install Friday night funkin on a Chromebook OS? Well, congrats in advance because today you will be going to play it on your Linux-based Chrome OS.
This is a very popular game among teens and youngsters too. Sometimes, I also play it and I love to play.
You want to play fnf game on your chrome laptop that's is good, but you have to keep a few things in your mind that is system requirements.
To run this game smoothly and lag-free, there are some system requirements needed, which I discuss below.
For now, you can use the below table to jump to your desired sections.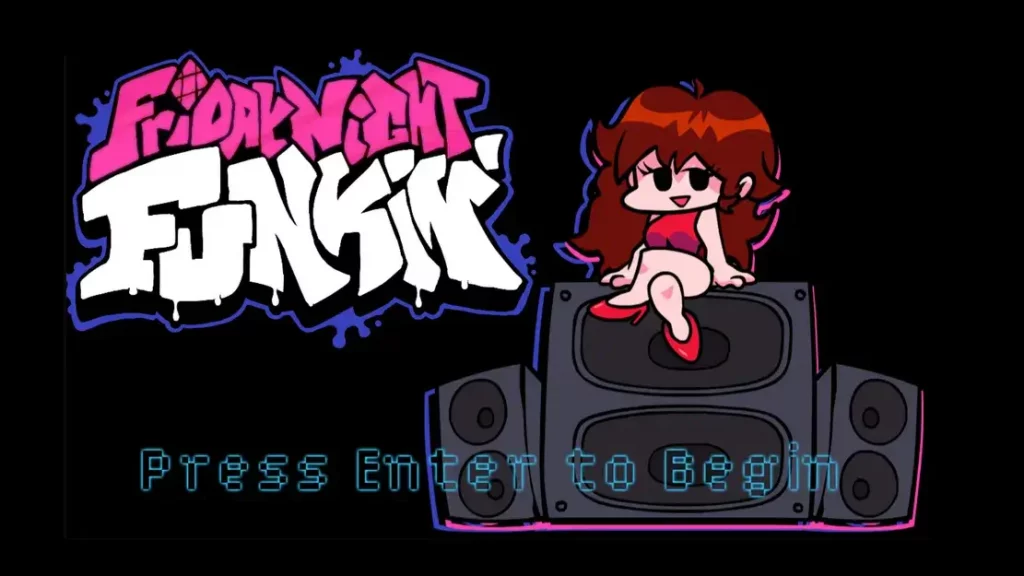 How To Play Friday Night Funkin On Chromebook Unblocked?
Fnf game is a rhythm-based game, that is all you have to impress the audience and your girlfriend too with singing and dancing moves. She is sitting on the speakers.
The gameplay is very simple, you have to use WASD keys or arrows keys (⬅⬆⬇➡) from your keyboard to beat your opponent otherwise he will kiss your girlfriend.
In this game, you have to copy the notes of your opponent to defeat him. The soundtrack play is awesome.
But, when you start scoring high, the soundtrack becomes irritating and at that time you need lots of skills and fast button typing commands to defect your opposite opponent.
If you didn't defect your opponent, he will kill you in the end.
So you have to need lots of patience and focus to play this game.
Also Read: How To Play FNF Unblocked Chromebook Game?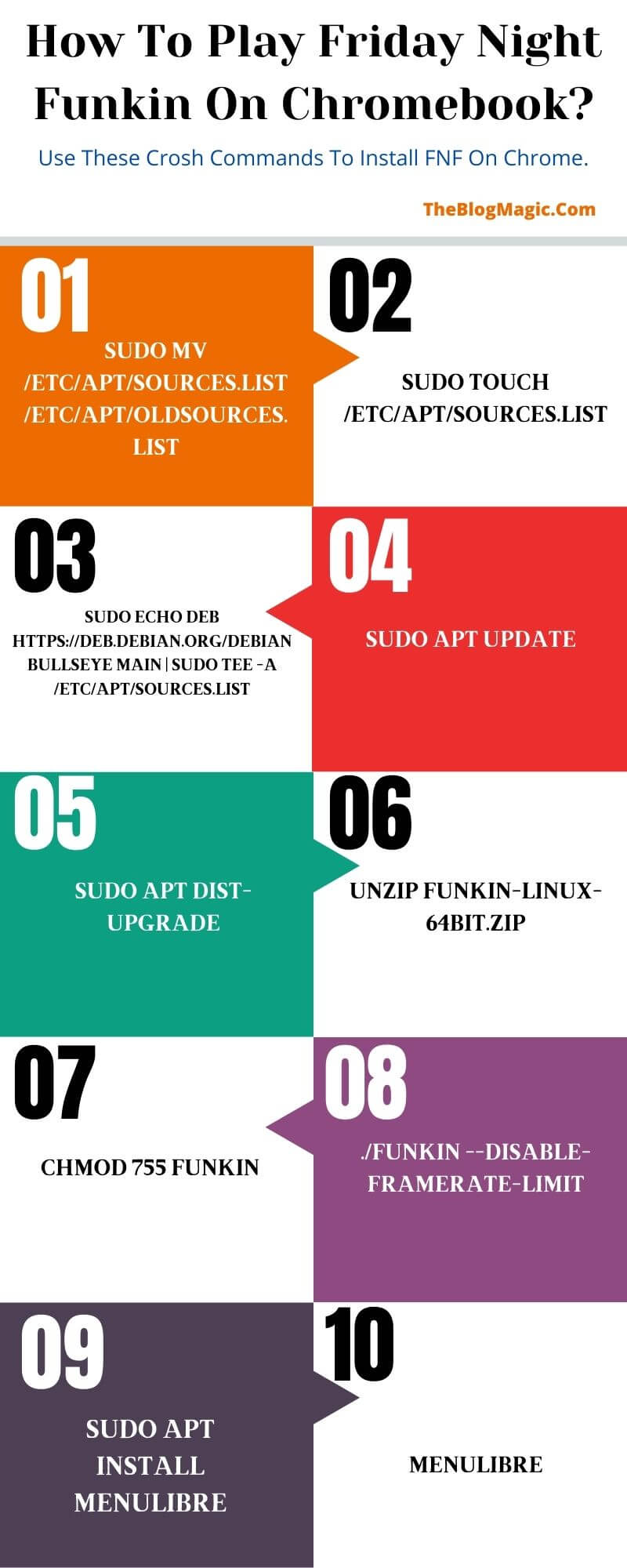 How To Install Friday Night Funkin On Chromebook?
You can play the Friday night funkin game in two ways, the first is offline, and the second is online. In offline mode, you have to install fnf game on your Chromebook device using Linux beta.
So, to run this game smoothly and lag-free you need some basic requirements of 4GB RAM with Intel or AMD CPU processor. Although, the respective owner claims this game needs at least 6 GB of RAM to run but you can enjoy at 4 GB without any lag and bugs.
But this fnf game is not fully supported with an ARM64 architecture CPU processor. So before installing this game you have to make sure your laptop has the above requirements.
Also Read: 2 Easy Ways To Install iTunes For Chromebook (2022).
How To Install Friday Night Funkin On Chromebook Using Linux Beta (Offline)?
To install fnf offline game on chrome book you need Linux beta to be enabled on your laptop. With the help of Linux and crosh commands, you can install fnf game. If you don't know what is crosh commands? you can follow the given link.
And you should also check these useful Chromebook crosh commands that help you in your everyday life.
Follow all the steps very carefully, any little mistakes in commands can result errors.
Note: After the update of Chrome OS 96, the Linux terminal has been updated to the latest updates. All the below commands will work the same, only step 1, step 2, and step 3 are no longer required.

So check your OS version, if it below to 96, use all the steps.
Step 1. First of all, all you need to do is enable Linux (Beta) on your Chromebook. For this, you have to go to your system settings and click on Linux (Beta) from the left side navigation then, "Turn on" it. After turning it on, the crosh shell terminal will pop up, close it for now.
Step 2. In the next step, you have to download the fnf game installation package from their website. Go to their website and download funkin-linux-64bit.zip file on your computer, which is about 144 MB of version 4.
Step 3. Now go to the Download folder and move funkin-linux-64bit.zip to the Linux folder.
Step 4. For the further step, you have to do is, open your crosh shell terminal by pressing "Ctrl+Shift+T" and follow with the command. This command will rename current Linux repositories files as we will create a new one.
This command will run automatically when you paste it on your terminal. To paste commands double-tap or press "Ctrl+Shift+V" to the chrome terminal shell.
sudo mv /etc/apt/sources.list /etc/apt/oldsources.list
Step 5. Now, you have to create a new Linux app repository file. So run the below commands.
sudo touch /etc/apt/sources.list
Step 6. Also run the below commands to add to the repository, for the newly created file that you created in the first step.
sudo echo deb https://deb.debian.org/debian bullseye main  | sudo tee -a /etc/apt/sources.list
Step 7. Run this command to update the repositories of the Linux applications.
sudo apt update
Step 8. Now, in this step, you have to install all Linux updates. Press "Enter" to confirm installation when prompted. This step will take some time so, be patience.
Another dialog box will pop up, where you will have been asked, "do you want to change the home directory of user irc?" press "Right arrow button" to select "NO" and then, press enter to confirm the choice.
sudo apt dist-upgrade
Step 9. The next step is to install the game package. To install, follow the below command. Make sure you entered the correct file name. If you renamed it. Replace "funkin-linux-64bit.zip" with that name.
unzip funkin-linux-64bit.zip
Step 10. This command will execute the game file program.
chmod 755 Funkin
Step 11. This command will help you to check, wheater the game runs or not.
./Funkin --disable-framerate-limit
Step 12. Hurrah! Game is running successfully. Now you have to install the "Menu Editor" to add the Friday night funkin to your menu.
So that, you can directly access the fnf game without going to the terminal and run the "./Funkin" command. So run the below command to install "Menu Editor"/
sudo apt install menulibre
Step 13. This command will launch the menu editor where you have to locate the fnf game.
menulibre
Step 14. The menu editor panel will pop up after running the above commands. Choose game category from the left navigation menu and then, create launcher from upper left corner plus icon, which is above the accessories navigation.
Step 15. Now create a name for the launcher "Friday Night Funkin".
Step 16. In application details, select "command".
Step 17. Go to home and select, Funkin and save the launcher. Which is beside the "Add launcher"
That's all, you have successfully installed the Friday night funkin game 2022 in your Chromebook. Go to your menu launcher scroll down, there is an option for Linux apps. You will get all your Linux install games and application there.
Also Read: 7 Easy Ways: How to Restart Chromebook | Fix Frozen Issue With Your Chromebook.
How To Download Friday Night Funkin On School Chromebook?
There are some restrictions in the school Chromebook, and one of them is your problems. You are not able to play FNF on chrome. Well, I have a solution for you, you can easily play FNF on Chromebook.
I know many websites, where you can easily play this game online without installing it on your Chromebook OS laptop. All you need is high-speed internet.
So, the connection between your Chromebook laptop and the server doesn't fluctuate.
Below are the list of websites where you can play Friday Night Funkin online on Chromebook and impress your girlfriend.
Some websites have all weeks and some have only Week1 and Week 2. You have to check which is best for you.
https://kbhgames.com/game/friday-night-funkin

https://chromebook-gamerwastaken.itch.io/friday-night-funkin-optimized-for-chromebooks
How To Download Friday Night Funkin On Chromebook Without Linux (Online)?
With the power of Linux, you can run almost all Windows OS applications and software into it very easily. You can also enjoy your favorite FNF Chromebook too.
The benefits of it is. You can easily play this game on school chrome without knowing your teachers and parents.
I share a list of websites that offers to play FNF online Chromebook.
Frequently Asked Questions.
Is friday night funkin free?
Yes, Friday night funkin is a completely free open-source game. You can play it without buying it. If you wish then, you can donate some amount to the respective owner through the game.
Can browser play Friday Night Funkin?
Some websites offer to play FNF games online. So, with the help of good internet, you can play games on your Chromebook browser without any issue.
What devices can you play Friday Night Funkin on?
On almost all devices you can play the Friday night funkin game. You can play this game offline and online mode too. Also, you can play with your friends in multiplayer mode.
Hey! This is Ravi, Technology Youtuber | Blogger by Passion | Entrepreneur by Nature. I love to share information related to Digital Marketing, Blogging, Technology, Gadgets, the Internet, and solving user's quarries.