Have your eyes ever felt tired, while doing something on chrome? This is because of the blue bright light color that emits from the screen. If you wanted to know, how to invert colors on Chromebook?
So, this can prevent my eyes from vision impairment and eye fatigue. Then, stay tuned, with the step-by-step process will let you know to switch between high contrast mode Chromebook OS.
I would love to share my past stories with you related to inverting colors on chrome. My eyes are absolutely normal and there are no vision problems.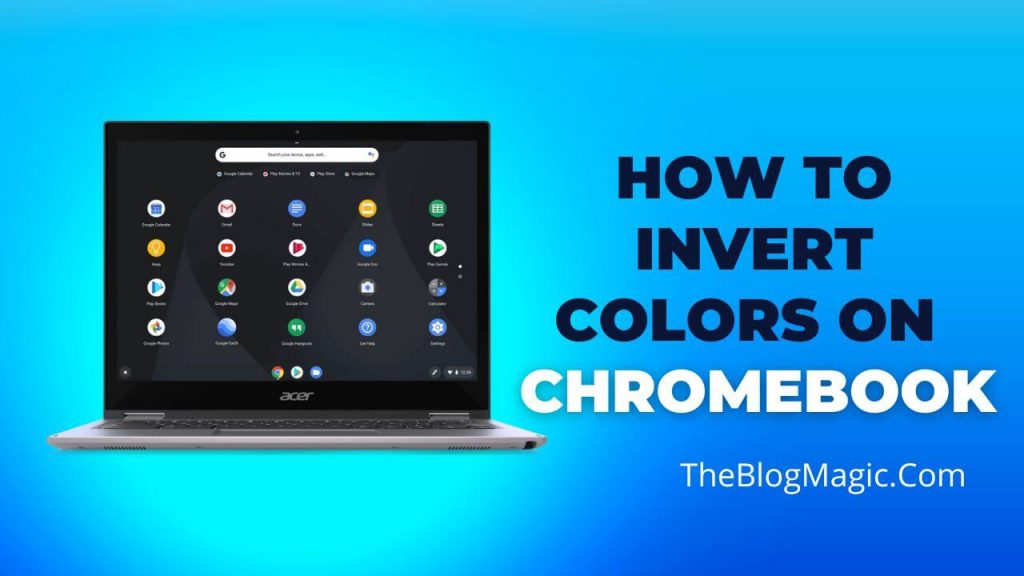 One day I was working on chrome late at night because I have to submit a presentation the next day.
Due to working long hours, eyes have been tired, and sometimes eye pricks. Then, I remembered, one of my best colleagues told me. When humans continuously see the screen, they get itches in their eyes and it pricks too.
So to prevent this, turn on invert colors on Chromebook. This will relax your vision and I did the same thing that day.
Count upon me, I worked 2 hours more on that day and relaxed my eyes too. This worked for me and I wish to work for you also.
You can also use the below table to jump to your desired sections.
How To Invert Colors On Chromebook OS Device.
If your eyes are pricking, it's a good choice to invert the color of your screen. This will protect your eyes and help you spend more time on screen. So let's see the exact step-by-step process.
Step 1. First of all, go to the desktop screen. And then locate the "Options Menu" from the lower right corner of the screen. And then select settings gear at top of the popup menu.
Step 2. On selecting "Settings Gear", all chrome-book settings options will open in a new tab. Select "Advanced" from left navigation options.
Step 3. Now after selecting "Advanced" options, "Sub-Category" options will visible. Click on "Accessibility". And from the right page select "Manage Accessibility Features".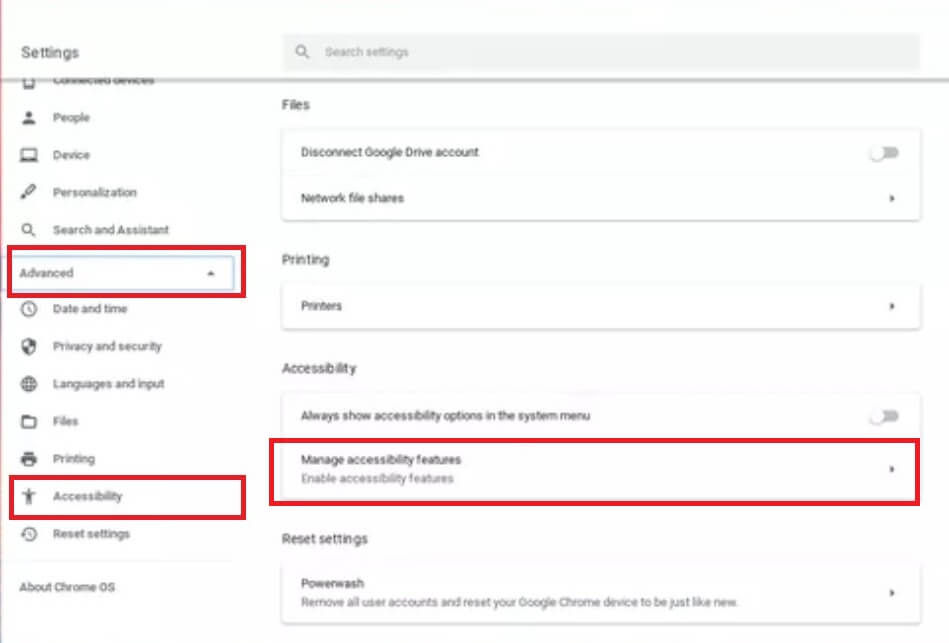 Step 4. Scroll the screen a little bit, and find "Use high contrast mode" in "Display sections". Now turn it on and your screen will look like this. Use the same path for voice versa.
How To Invert Colors On Chromebook With Keyboard?
If you are thinking, about how to invert colors on a Chromebook with keys? Well, every function on chrome os has its own shortcut key that helps you to execute that task in no time. So, you can easily switch between invert colors by using the key "CTRL + Search + H"
Frequently Asked Questions.
What's the purpose of invert colors?
Developers did a great job to integrate invert functions on Chrome OS. It helps your eyes to see the screen without any itches and strain or pricking.
What are invert colors used for?
The inverting screen is used to relax your eye's vision. It converts display into the negative film. This negative film has low intensity of harmful rays that prevent your eyes from any vision problems.
Can inverting colors hurt your eyes?
No, it helps to reduce strain in your eyes.
Does invert colors save battery?
No, there is no measurable difference in your battery when you inverted color. The battery consumption is almost the same.
Hey! This is Ravi, Technology Youtuber | Blogger by Passion | Entrepreneur by Nature. I love to share information related to Digital Marketing, Blogging, Technology, Gadgets, the Internet, and solving user's quarries.