San Francisco, USA
Top destinations for Paddle Boarding in the USASan Francisco is usually more reknown for being a hot tech scene and for its other attractions such as the Golden Gate Bridge, Alcatraz and the sea lions at the various piers.
Yet, you can also enjoy many of these attractions by paddle board. In fact, San Francisco is a very lively SUP location.
The SUP community hosts annual events such as Battle of the Bay (a full water sports festival) with Red Bull also throwing a massive event in October of 2016.
San Francisco Bay paddlers will want to see a very pleasant, an array of birds wing past, gulls, cormorants or loons, and these changes according to season. While they admire ever-present views of fog swallowing the Golden Gate or enjoy the vistas of the city's landmark skyline of downtown San Francisco and the towering hills that ring the San Francisco Bay Area.
Head to Boardsports school and shop or SeaTrak for classes, tours and custom trips.
Have a look at what it might feel like SUPing in San Francisco
Malibu California
The scenic Malibu beach in Los Angeles has always been a surfer's paradise.
While LA is famous for it's many beaches, and there are plenty of spots for great paddle boarding in the area, many believe that Malibu stands out as the very best. This is due to the magnificent views, miles of stunning beaches (particularly at sunrise and sunset) and the abundance of wildlife.
Also Read: Women Weight Loss Pills
While Malibu is always crawling with surfers, by heading out past the most popular breaks you'll find waters ideal for paddling without the crowds. The picture-perfect Point Dume with its wild coves is a must, whilst the Malibu Surf Shack guided tours are known for their paddling up the coast, past cliffs and kelp beds that are home to an array of wildlife including sea lions and seals.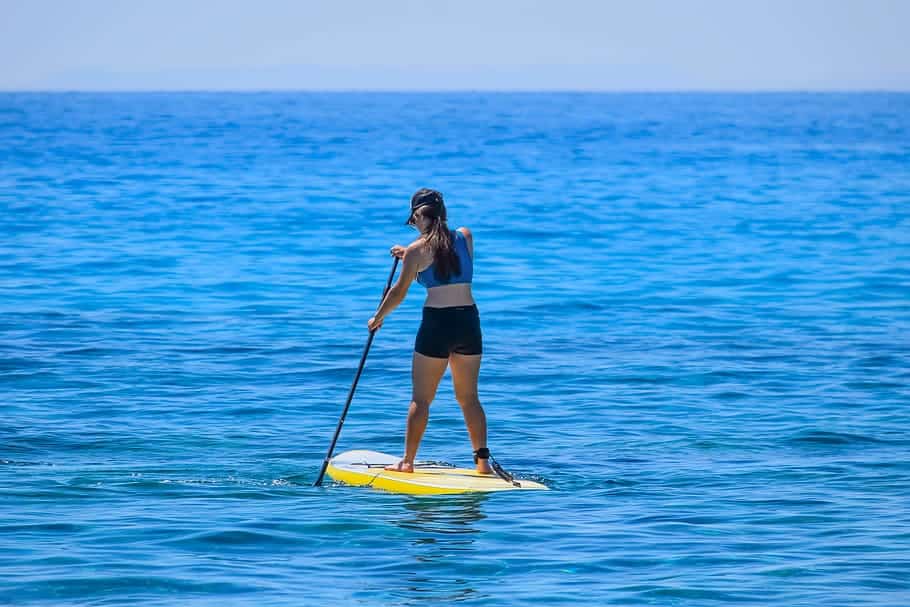 This great imagery caught by drones shows why Malibu is so famous for paddle boarding. Looking for SUP stuff in Malibu, head down to Malibu SUP or Hana Paddle Boards.
Paddle board with whales at Redondo Beach, California
We've been mentioning quite a few paddleboard spots which have plenty of wildlife. Yet, if you are brave enough and are up for some spectacular wildlife encounters, Redondo Beach in California is the ultimate paddleboard/wildlife combination.
The top Redondo beach located in california is frequented by the fin whales. These whales are one of big creatures found in the oceans, the next is blue whale.
Whilst getting as close to the whales as the above photo may not be wise, you can still keep a safe distance while enjoying the adrenaline rush that comes with sharing the water with these magnificent creatures.
Have a look at this preview of SUPing in Redondo beach or this close whale encounter.
Head to Tarsan Stand up or the Paddle House if any time you located in that area
San Clemente California
San Clemente in California is a small beach in southern Orange County USA and it is an upcoming stand up paddle boarding location. This place look great throughout year with round weather and beautiful beaches is the reason. The other reason it is popular is that many of the big SUP boards brands are basing themselves here.
That of course means that San Clemente is teeming with SUP pros and industry professionals – which means there's going to be plenty of events throughout the year where you're bound to meet some of the top names in the sport.
Brawner Boards and San Clemente Surf Board Rentals are two popular places where you can rent paddle boards or get tours.
Dana Point, California
There is a reason why Dana Point is one of the top spots and most well-known paddle board spots in the world.
Dana Point is home to the biggest, baddest SUP event: the Pacific Paddle Games, besides hosting plenty of other SUP events like the SUPIA Summit and more.
If you really want to get tempted to get down to Dana Point, check out the awesome photo galleries at the Pacific Paddle Games website.
Dana Point is surrounded by a seven-mile playground of coastal bluffs, sparkling shorelines and the stunning blue Pacific Ocean. The Headlands in Dana Point is a 50-acre beautifully protected site with spectacular views overlooking Dana Point Harbor and the Orange County coast.
A few other places that are great for paddle boarding in Dana Point are Baby Beach, Dana Point Harbor and Doheny Beach.
Dana Point Jet Ski and Kayak Center and Infinity SurfBoard are a great source for local knowledge, rentals and everything else SUP.
This guy at Dana Point surely had the experience of a lifetime when a young sea lion joined him on the paddle board.
Naples Canals or the Dolphin Adventure Long Beach, California
If you've been to Venice in Italy, you know that the busy canals are not the best spots for SUP. Yet, if you want to experience something similar without the waterway congestion, you might want to try out the Naples Canals in Long Beach, California.
You'll be paddling alongside the rich and famous, with grandiose houses and luxury boats keeping you company.
However, if you're more fascinated by sea life rather than the rich and famous, there's a great adventure in store at Long Beach.
At Long Beach, you're quite likely to find yourself paddling next to a pod of friendly dolphins.
Dolphins are quite curious creatures, so if you head out to the Ultimate Dolphin Adventure with Standup Rentals, you're in for a real treat.
Makes sure iRocker sup is with you to enjoy the most
iRocker is one of the top brand in USA. The quality of sup boards is first class. There are three categories in iRocker stand up paddle board.
iRocker Black fin stand up paddle board
iRocker stand up paddle board
iRocker nautical stand up paddle board
iRocker Blackfin stand up paddleboard is the best quality boards I have seen in the market. You can enjoy all the adventures using iRocker blackfin. Also, get additional discounts using the iRocker Coupon Code. Comment below what is your favourite location in the USA for paddling. Also, know us which stand up paddleboard you are using. Hope you have a great tour ahead. Cheers.
Hey! This is Ravi, Technology Youtuber | Blogger by Passion | Entrepreneur by Nature. I love to share information related to Digital Marketing, Blogging, Technology, Gadgets, the Internet, and solving user's quarries.